By Pixalate Dec 13, 2021 8:30:00 AM
Pixalate spoke with Andre Sevigny, Chief Revenue Officer at Pubfinity, about combatting ad fraud and providing a quality inventory for buyers within a challenging desktop gaming app ecosystem.
About Andre Sevigny:
As Chief Revenue Officer, Andre helps set strategy and drive revenue for the company. Before joining Pubfinity, he was at Microsoft for 13 years leading monetization, including direct and programmatic advertising sales and operations, for Microsoft's portfolio of casual gaming properties. Andre also built and ran multiple successful digital media and technology businesses across Asia and the US.
See the full Q&A below:
What services does Pubfinity offer?
Pubfinity, the only programmatic advertising platform for Windows Desktop Apps, is focused on helping publishers monetize their PC games without detracting from the user experience. Through a rigorous publisher vetting process and Pixalate monitoring, Pubfinity ensures all ads are only shown in high-quality, brand-safe environments.
With over 3 billion ad impressions available each month, we offer advertisers an easy way to reach the once elusive PC gamer at scale and with peace of mind. 
How does Pubfinity protect its customers from invalid traffic (IVT) and ad fraud?
By partnering with Pixalate and integrating its services directly into our Ad SDK and platform, we are now able to actively monitor and address potential issues before our customers have a measurable impact.
What makes fighting ad fraud on Windows desktop apps unique from a mobile or other ecosystems?
The Windows desktop app ecosystem is a great platform on which to develop and publish apps. However, desktop apps also yield much higher user engagement levels than mobile app environments. Although this is a highly sought-after quality to ad buyers, it can lead to unwarranted blocking as most ad fraud detection systems expect shorter ad sessions like in more traditional app environments. Furthermore, the underlying technology that allows us to render ads within Windows apps typically doesn't support industry-standard Invalid Traffic (IVT) detection methods, or viewability measurement mechanisms developed for more common mobile or browser environments.
Through a custom integration with Pixalate, we were able to address these technical challenges and provide ad buyers with a more accurate and comprehensive view of our inventory quality. This ultimately allowed us to educate the market on our unique supply, helping to differentiate it from more traditional ad inventory on mobile apps or desktop web and show its actual value to advertisers who may not be familiar with the Windows app ecosystem.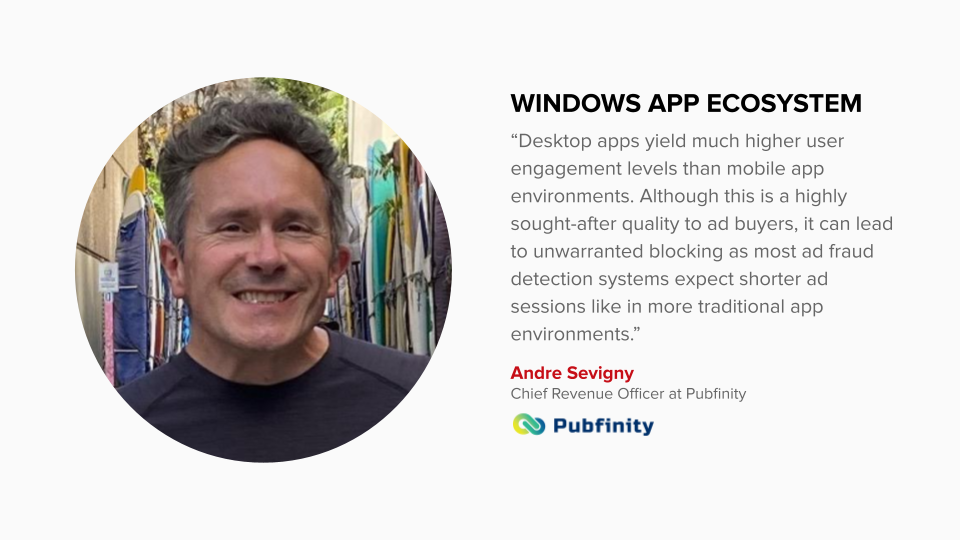 What are the key signals you look for in a good inventory source?
Given the high level of user engagement, we expect gameplay session lengths to be a lot longer than in other app environments. However, there is an acceptable limit, and it's essential that different apps and publishers aren't showing ads either off-screen or when a user may have an app open but not in the foreground. While the Pubfinity Ad SDK has mechanisms in place to prevent this sort of thing from happening, our integration with Pixalate enables us to make sure an incorrect SDK integration hasn't slipped through the cracks. We accomplish this by monitoring ad session length, in-view times, as well as levels of "Display Impression Fraud," which Pixalate defines as "Impressions that are generated from the same browser or device at a statistically significant inflated rate."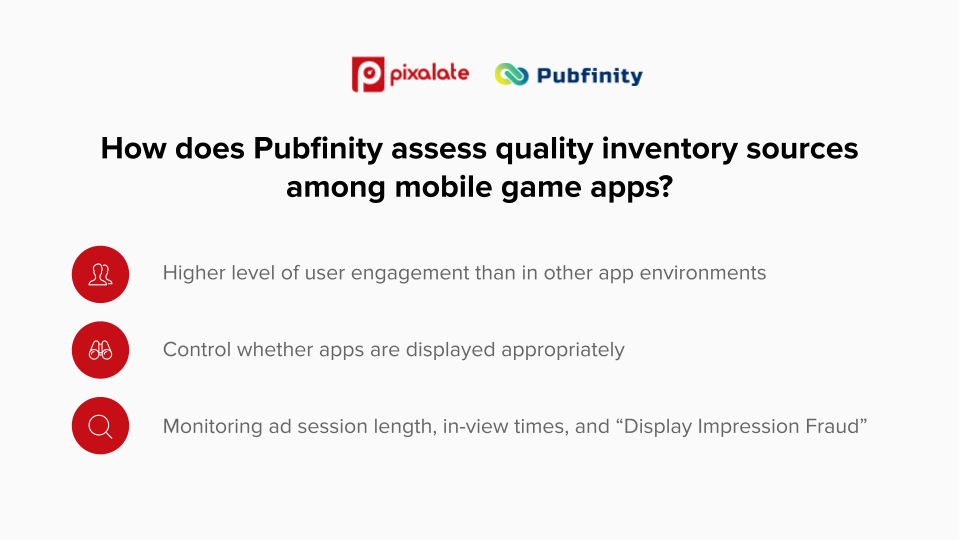 What other help do publishers need in the fight against ad fraud?
Pubfinity prides itself in partnering with publishers who care deeply about in-app ad experiences. We believe this ultimately yields higher quality ad inventory and allows us to communicate a consistent standard to ad buyers across our entire network. That being said, publishers are focused on making the highest quality apps and usually have no idea how to properly adhere to ad industry standards and avoid creating inventory that could be inadvertently flagged as IVT. Through our integration with Pixalate, we are able to monitor key metrics and activities that could otherwise be incorrectly marked as fraudulent. In doing so, we allow publishers to maximize ad revenue while remaining focused on making great apps for the billion+ end-users who work and have fun on Windows 10 and 11 devices.
Read Original Article: https://www.pixalate.com/blog/pubfinity-qa-desktop-inventory-quality